For a village, Thurmaston has seen prominent development in the form of Thurmaston Shopping Centre that adds a benefit to the area through different types of retail and food outlets and cafés alongside other commercial outlets in the main village, an Industrial Estate and a Community Centre hosting various groups and activities for the predictably large residential area that also makes up Thurmaston. We are a well established Professional Locksmith Company able to deal with and deliver all aspects of the Locksmith trade for all sectors. Fully insured with 100% guaranteed workmanship we only have Locksmiths that take pride in their work and give great customer service. Our Best Value Policy keeps our prices competitive and affordable with no Call Out Charges or Hidden Extras added onto the bill. We offer bespoke Service Contracts for Companies, Businesses and Landlords that will cover all your Thurmaston Locksmith requirements. Available 24hrs a day 365 days of the year with same day appointments we will never leave you unsecured at your place of work or at home. All calls are answered promptly by an experienced Locksmith so if you like to book a job or have any queries, just give us a call.0116 442 2373.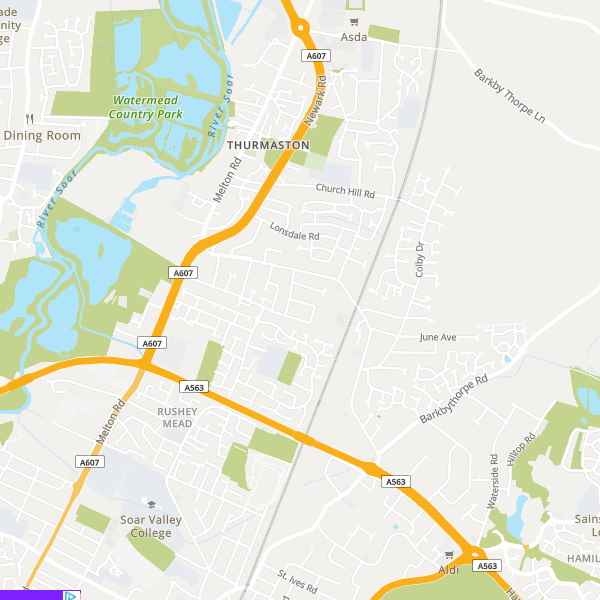 Emergency Locksmith Thurmaston
A good quality Locksmith can sometimes be hard to find in an Emergency but we can be relied upon to provide a fast response to your call for any out of hours issues or situations that need an immediate solution. Our experienced Emergency Locksmiths in Thurmaston will arrive at the scene ready to get to work for Window Boarding using high quality boarding materials and boarding up from the inside provides a secure temporary solution until we can replace the glass 24 hours later. Lock Issues caused by damage from forced entry, Lock Opening if you have locked yourself out of the house, Lock Snapping or the Key has snapped in the lock, Burglary Damage Repairs to Doors, Windows and Frames, All types of Lock Changes, Repairs or Replacement, Safe Opening and Repairs and the list goes on. For any Locksmith related emergencies we are always here to take your call and quickly and efficiently restore protection and peace of mind.
uPVC Door Repairs
Thurmaston
uPVC Doors are popular due to their affordability, low maintenance and longevity but they are not immune from wear and tear and general problems that will require a fix. Hinges wear and drop, Handles stick and become floppy, panels get damaged or fade over time but all these issues can be solved without having to pay out the cost of a new door. Composite and Wooden/Timber Doors all have the same issues with parts and we are also able to carry out repairs on these types of Doors. A draught coming from a door is usually a misalignment between the door and the frame and can be resolved by adjusting or replacing the hinges. Stiff handles or doors that won't stay closed are commonly caused by the latch, we can resolve all these types of issues. Door panels can be replaced individually which is a great flexible feature of the uPVC Door. We use quality panels with an mdf interior of varying thickness to match your door. Call us for a same day appointment or email if you want to book in a visit on a date and time to suit you, alternatively you can request a call back for an expert Locksmith to return your call.
uPVC Window Repairs
Thurmaston
Our comprehensive range of uPVC Window Repairs in Thurmaston will leave your windows working as good as new without the cost of a whole window unit as our experienced team can resolve all your uPVC Window problems. Condensation, misting or fogging on Double Glazing can be sorted by professionally replacing and resealing the glass. Glass repairs available for all types of glass such as K Glass, Self Cleaning Glass, Toughened Glass, Patterned Glass, Georgian Bar Glass and Glass with Leadwork. Handles can be replaced whichever type you have, the Cockspur, Inline, Offset or a Tilt and Turn and the Espag Handle and Locking System commonly found on uPVC Windows works by moving a sequence of locks around the window in order to secure it. The Espag handle can be identified by the spindle that extends out at the back and it is compatible with a variety of Multipoint Locks all of which we can supply and fit including faults with the Window Locking Mechanism and Gearbox. Hinges that become rusty over time or if damaged through force can be a weak point on uPVC Windows. Locked Windows can be opened and don't put up with draughty or leaking windows. With same day appointments always available, call us anytime for a FREE No Obligation Quote to come out and repair your uPVC Window in Thurmaston.
Auto Locksmith Thurmaston
When you have 'Locked your keys in your car in Thurmaston' you need a fast reliable Auto Locksmith for the job. We offer a 24 hour Door Opening Service from experienced Auto Locksmiths that have the professional skills and tools for the job. Opening Doors, Side Doors, Back Doors and Heavy Duty Security Chains on Cars, Vans, Trucks and Lorries are all part of the job for us. We work using non destructive methods that will leave your lock functioning with no damage to the vehicle or paintwork. For Motorcycles we can unlock the Ignition and Fuel Cap, The Seat Compartment, Pillion Seat and the Top Box. Security Chains for Locking the bike can also be unlocked. Payments can be taken in cash or by card in person or over the phone by a third party. For a fast and effective service at a time when you need it most, keep our number in your phone and we will be right there to get things moving again.
Lock Change Thurmaston
Door locks have a lot of moving parts and each part has a role in ensuring the lock works as a whole and in the case of a faulty lock some customers choose to repair Locks others to replace or upgrade them. The ideal secure lock for a uPVC Door or a Composite Door is a Multipoint Lock along with a Euro Cylinder Lock which is opened and locked by a key. On closing the door the handle needs to be raised to activate the Multipoint Locking System and to enable the key to turn in the Cylinder Lock. Cylinder Locks come in 3 star ratings. 1* has basic approval with no testing carried out for snapping, 2* for door handles and other door furniture and 3* for Cylinders tested for resistance to snapping so the minimum protection required for an AntiSnap Lock is the 3*TS007. An alternative to this would be 1* Euro Cylinder Lock protected by 2* approved door handle such as the PAX24 and the ultimate is the Brisant Ultion SS312 Diamond approved Cylinder guaranteed for 10 years against entry through Lock Snapping. We supply and fit as standard an Anti Snap, Anti Pick and Anti Drill Euro Cylinder Lock that comes with Five keys and a Five Year Warranty. We also fit High Security Locks, Electronic Locks, Mortice Locks, Master Key Systems, Keyless Entry Systems, Smart Locks and many more. Always happy to discuss any Locking queries you may have, just give Locksmiths in Thurmaston a call.
uPVC Door Accessories Thurmaston
Our carefully selected selection of new uPVC and Composite Doors is definitely worth a browse if a new front door is what you are looking for. uPVC Doors are low maintenance requiring no additional work as a Wooden Door does and they provide a good reliable level of insulation. Although some have plain or Patterned Glass inserts, uPVC Doors have a minimalist appearance compared to Composite Doors which are available in different textures and colours. Composite Doors are the more expensive of the two Doors as they combine the best features of both uPVC and Wooden Doors and offer a higher level of insulation with modern, conservative and contemporary designs to choose from. Other accessories on offer that will complement your home are Letterboxes and Letterplates, Door Knockers and Handles in a range of matching shades and finishes with a selection of colourful and stylish numerals for the front of the house. Hinge and Finger Protectors for Doors plus Pet Flaps that can be installed or removed. Security products include Home Safes, Door Chains, Door Restrictors, Window Hooks and Cables, Spy Holes, WiFI Door Camera Viewer and CCTV and Alarm Systems. For commercial use we offer wide range CCTV, Alarm Systems and Thick Fogging Systems for Jewellers. Feel free to call anytime for a no pressure discussion or just further information on any of our products.
Crime in Thurmaston Leicester
Everyday use on uPVC Windows and Doors can show the strain potentially leaving your home at risk. Locks are the main component that protect your home and faulty locks or cheaper locks that can degrade are not something that should be overlooked. For example, loose door locks may not seem too much of a problem until they lock you out of your home or business. If you have a lock that will not let you put the key in this is probably due to the seizure of inner components or even just dirt in the lock will cause it to jam. Don't leave it too late to call a Locksmith and leave your home or business vulnerable. Stay Safe by letting Thurmaston Locksmiths keep your property secure.