All aspects of the Locksmith trade are covered by our professional team of Locksmiths in Braunstone, a large urban LE3 postcode area a few miles outside Leicester City Centre makes Budget Locksmith Leicester ideally placed to serve Braunstone with a reliable established Locksmith business that has an excellent reputation for customer service. Our high work standards demonstrate the level of pride we take in doing a good job which is why you will receive guaranteed quality workmanship that is 100% insured. Maintaining competitive pricing through our Best Value Policy means our prices are fair and affordable with no Call Out Charges or Hidden Fees added on at the end. All calls to us get a FREE No Obligation Quote so it is left up to you to decide without any Pressure or Hard Sales, so give us a call to see how we can help with uPVC Doors or Windows needing repair as well as problems with any type of Lock. Different problems require different solutions and we aim to be there to quickly and efficiently resolve all issues that compromise the security of your home or business. 0116 442 2373.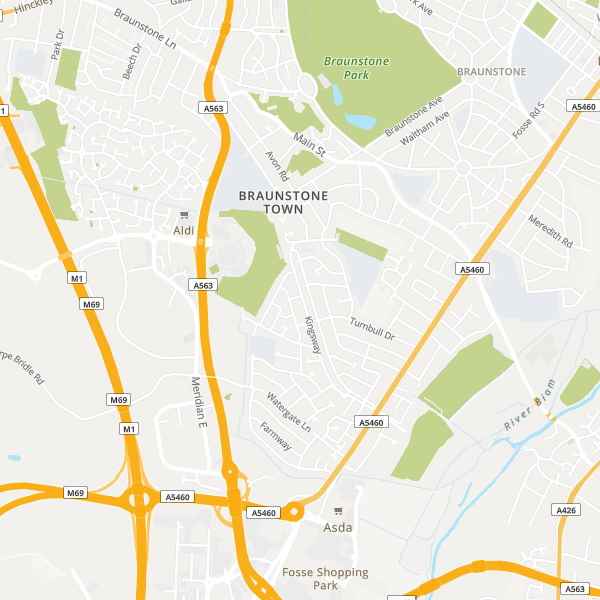 Emergency Locksmith Braunstone
If you need a Locksmith near you for an Emergency situation, you can rely on our team getting to you quickly as our fast response system will not leave you waiting for long. Available all hours of the day and night our Emergency Service aims to be with you in as little as 15 minutes as an experienced Emergency Locksmith is immediately dispatched out to you ready to get to work on gaining entry for Lockouts, Remove Keys Snapped in the lock, carry out Lock Installations or Lock Changes, Boarding Up for both Residential and Commercial properties from small windows to large shopfronts and offering a 24 hour Glass Replacement service plus repairs for damaged uPVC Windows and Doors. Landlords, we offer Service Contracts that enable us to go out and deal with out of hours issues on your behalf. Payments can be made in cash or by card in person or over the phone by a third party. Whatever your emergency we will be there to restore a secure environment and saving our number in your contacts will take some of the panic out of the situation saving valuable time knowing you have called a professional and reliable Locksmith in Braunstone to deal with your emergency situation.
uPVC Door Repairs
Braunstone
As well as the main Front Door uPVC Doors are commonly found on the Back Door, French Doors, Conservatory Doors, Patio Doors and Internal Doors. At any time any one of these doors could have a problem with opening or closing, not sitting right within the door frame creating a draught, the Handles not working properly or you find that you are unable to lock the external doors securely. Braunstone Locksmiths are always on hand to come out and assess the issue and provide a solution to fix it. The Hinges can cause a door to become misaligned, adjustment, replacement or re hanging the door will ensure that it fits snugly into the frame which will get rid of that annoying draught and open and shut smoothly. Handles can stick or become floppy indicating there could be a problem with the Locking Mechanism or the Gearbox. All these parts can be repaired or replaced and all our parts come with a 12 month warranty. The flexibility of a uPVC Door Panels means that damaged panels can be individually replaced as can the Glass Inserts so don't let anyone tell you that you need to pay out for a new door, make sure you call us first for a same day appointment to come out and put all your problem uPVC or Composite Door issues behind you.
uPVC Window Repairs
Braunstone
Saving you the cost of having to purchase a whole new window unit is our aim with our comprehensive list of quality repairs available for uPVC Windows in Braunstone. uPVC Windows are Double Glazed which is great for energy saving but can cause issues with condensation and misting if the seals start to break down. Our experienced team can quickly and efficiently replace and reseal the glass to rectify the issue. We can also provide Glass Replacement for cracked or broken glass panes including privacy glass used in bathrooms. uPVC Windows have a similar construction to doors in that the faulty Hinges, Handles and Locks that play a vital part in a functioning window can all be repaired or replaced although if you have lost the keys to lock the window, it will mean a new handle accompanied by a set of five keys. We have all types of handles in stock, the Inline or Universal Handle and the Left and Right handed options of the Cranked Handle and the Cockspur Handle. uPVC Windows commonly use the Espag Locking System which is similar to the Multipoint Locking System on a Door. The Handle actions Mushroom like studs to move horizontally or vertically depending on the window placement to lock into the keep located in the frame of the window. A gearbox sits in the centre of the Espag and has a hole in it that the spindle of the handle goes through to operate the mechanism. It is the spindle that identifies it as an Espag Handle. Why not put our affordable Best Value Policy to the test and give us a call to book a same day appointment and let our friendly team get your windows looking and working as good as new in no time.
Auto Locksmith Braunstone
Locked your keys in the Car, Van or Lorry? Our professional Braunstone Auto Locksmiths are available 24 hours a day for unlocking services. Using specialist lock picking tools designed specifically for the make and model of your vehicle we use non destructive methods of gaining access without causing damage to the lock or the paintwork so as soon as you have your keys back, you will be able to continue on your way. An extensive list of makes and models of Cars, Vans and Lorries are included but if you have a vehicle you think may not be on the list, a quick call to us will give you an immediate answer. Please be aware if you have lost the keys we are currently unable to provide a replacement key service. Unlocking options available for Motorcycles include Ignition and Fuel Cap, Seat Compartment and Pillion Seat, Top Box, and Security Chain Removal. Don't delay in calling for our reliable Auto Locksmith who can take payment in cash or by card in person or over the phone from family or friends via the office to reunite you with your keys.
Lock Change Braunstone
The Multipoint Locking System is fitted into the door and locks into the frame when the key is turned. This enables the door to lock at a minimum of three points up to a maximum of five points along the locking side of the door. Commonly found on uPVC and Composite Doors but also French and Patio Doors the Multipoint Lock works in conjunction with a key operated Euro Cylinder Lock. It has several benefits in that it is harder to force open, it only takes one key to operate it, if you have two doors with the same lock, keys for each door can be keyed alike so it only takes one key to open both doors and the locks are straightforward to upgrade by inserting a higher standard cylinder. As a standard we fit the Anti Snap Euro Cylinder Lock that is also Anti Pick and Anti Drill. It comes with 5 keys and a 12 month warranty. Other types of Euro Lock include the Thumbturn Euro, a must in Multi Occupancy buildings such as blocks of flats or houses converted into flats to ensure a quick and easy exit. The Single Euro is most commonly found on Garages or Side Gates. Apart from uPVC and Composite Doors we are also able to provide locks for Timber Doors and anything you want to keep secure in many different areas, Garages, Sheds, Lockups, Outdoor Storage Units, Perimeter Gates, and even Electric Meter Boxes. We are also able to supply and install Commercial Locks such as Master Key Systems, Registered Key Systems, Keyless Systems, Door Entry Systems, Emergency Exit Hardware, Roller Shutter Door Locks, Digital Locks in fact any type of Commercial Door Lock. Upgrades for Locks are available for a higher specification of the same lock or changing to a different brand and we are happy to discuss your requirements and offer all options for you to consider. Take advantage of our FREE Home Security Check by giving us a call, sending an email or request a callback and an Expert Locksmith will return your call.
uPVC Door Accessories Braunstone
Accessorising your home can be fun and allow you to be creative. We have a range of Letterboxes and Letterplates, Door Knockers and an exciting display of Contemporary, Modern and Traditional Handles in a selection of different shades and finishes. Numerals for the front of the House in lots of different styles and colours and we can install or remove Pet Flaps. If it's Security Products you need we can supply and fit Door Chains, SpyHoles in a range of different strengths and fitted at your specified height for easy viewing, a WiFi Door Camera that links up to the TV in the lounge or the kitchen, another way of seeing who is at the door before opening it. CCTV and Video Surveillance equipment with the capability of covering large areas or just a blind spot. Alarm Systems to suit all property types as well as wireless technology that keeps you in touch with what is going on. With security systems available to suit Residential, Commercial and Small Businesses we are sure to have your security covered. For a one to one chat to discuss your requirements and get more detailed product information give us a call and we will be happy to help in any way we can.
Crime in Braunstone Leicester
Whether it covers a whole estate or a single road Neighborhood Watch is a powerful and popular method of crime prevention through a group of neighbours with access to the Police and other Community Agencies making a difference and looking out for each other. However ultimately it is up to the home or business owner to make sure their properties are secure and not inviting unwanted attention. Did you know that if the locks on your home or business are not working properly then it may void your insurance. Windows play an important part in your home security so keep a check on them, don't leave problems to escalate and save yourself from becoming a victim of crime as getting through a damaged window is much easier than quietly trying to open a locked door. Braunstone Locksmiths are always ready and willing to help with Repairs, replacements and advice enabling you to keep your home or business as safe as it can be. If you have any security concerns take advantage of our FREE Home Security Checks and FREE Security Audits and Risk Assessments for businesses. We are only a call away.