Have you ever wondered if there is anyone who does Leicester uPVC Window Repairs Near Me? Look no further than Budget Locksmiths Leicester working 24 hours a day covering all areas of Leicester we will always have a member of our team near where you live in Leicester. We are a fully insured well established company with a team of highly experienced Locksmiths trained in all aspects of uPVC Windows and able to repair any issues you may have. When you give us a call you will immediately be able to speak to one of our team who will listen to your problem and be able to give you advice along with a FREE No Obligation Quote on Window Double Glazing Repairs and Repairs on uPVC Window Handles, Hinges, Locks, Lock Mechanisms, Gearboxes, Hooks, Cables and any Spare Parts required. Our friendly and reliable team turn up when you expect them to and work quickly and efficiently making us the company you can rely on. Our competitive affordable prices mean we offer the best value uPVC window repairs in Leicester and with our 100% guaranteed quality workmanship we are determined to be the best Double Glazing Repair Service in Leicester. Call any time for a same day appointment or to get a date and time in the diary that suits you.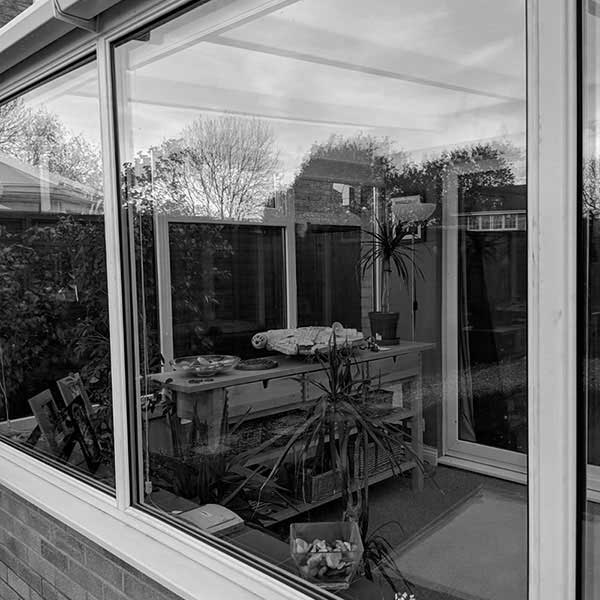 Emergency uPVC
Window Repairs Leicester
Windows and Doors are the protectors of our home and occasionally require a repair that can not wait. A call to us for a uPVC Window Emergency Repair will initiate a super quick response time with a member of our team immediately dispatched out to you aiming to arrive within 15 minutes. Working around the clock 7 days a week, you will never be left without help when you need it in keeping your property secure. We will arrive fully equipped to do whatever is necessary including Window Boarding and arranging a 24hr Glass Replacement Service if Windows have been broken accidentally or through criminal damage. Whatever the problem, we will restore security and peace of mind. Payments can be made in cash, by card in person or over the phone from relatives or friends whatever the situation calls for and is easiest for you. Save our number in your phone for anytime you need to call about an Emergency Double Glazing Window Repair in Leicester.
uPVC Window Handle
Repairs Leicester
We are able to diagnose and repair all faults that can occur with uPVC window handles and locks and offer an immediate solution. Espag Handles are most commonly found on uPVC Windows and can be identified by the square spindle that projects out at the back. When functioning correctly they move a sequence of locks into place around the edge of the window. Espag Handles come in two different designs: the Inline is straight and the Cranked handle has Left or Right handed options. The Cockspur Handle found on older windows doesn't have a spindle but does have the Left and Right hand options and is available in different sizes to accommodate the size of the backset on the handle. If the Lock Mechanism or the Gearbox located within the Window has a fault you may first notice this through a problem with the handle and not being able to lock the window securely. Struggling to close or lock a window because the hinges are bent can also put added stress on the handle and the lock. Let our team come and assess the problem and fix the right part before you decide the only answer is a new window. A replacement part is always going to be a more cost effective way of dealing with a problem with your uPVC Window.
uPVC Window Draughts and Leaks
Repairs Leicester
Hinges are one of the key parts that can cause a draught from your window. If the windows are not opening and closing freely, the hinges could be the issue due to wear and tear or damage from dirt and rust. Window Locks can also have an impact, how tightly does your window close, do the sash and the seal compress tightly against each other along the length of the lock side as they should? Is the window lining up properly as it is closed? A window that is correctly aligned should have no gaps.
If your window is leaking it may be due to not being installed properly, in older windows it could be wear and tear, the window is misaligned or the frame is damaged. Whatever the reason for the leakage it needs to be repaired promptly in order to avoid costly repairs later on because of the further damage it can cause to paintwork and sills. All of the problems you have with draughty or leaking windows can be sorted quickly and efficiently by our friendly and knowledgeable team who will be able to assess and advise you on the correct solution. Get in touch and tell us about any of your uPVC Windows that need a repair and you can rely on us to get it sorted.
Double Glazed Window
Repairs In Leicester
Failing or faulty seals are the main causes of Double Glazing problems that can occur in any window around the house. There is a gap created when two panes of glass are hermetically sealed together and it is the air trapped inside that gap that gives double glazing its insulating properties enabling it to keep the heat in. If you notice condensation causing misting or fogging between the two panes of glass, the window will be losing the benefits of insulation and the reason is because the seal has failed slowly releasing the trapped air. If not corrected, ultimately it will affect the cost of your heating bill. Kitchens and Bathrooms are usually the main culprits for creating water vapour which through high pressure can be carried through into other rooms around the house that have a lower pressure. Keeping the kitchen and bathroom doors shut, opening a window for good ventilation or increasing the air temperature during cold weather can help keep condensation at bay but to remedy the problem completely, call on our experienced team who will replace and reseal the glass leaving the original frame intact. You may also want to take the opportunity to consider upgrading to an A- Rated energy efficient glass which our team would be happy to advise on. Our Best Value Policy keeps our prices affordable so get rid of that annoying, unsightly problem and let our professionally trained Glaziers carry out a Double Glazed Window Repair that will restore the clear view from your window.