Window Boarding Up in Leicester is a Service we offer that comes with years of experience in securing properties and premises in both the Residential and Commercial Sectors. Available 24 hours a day, 7 days a week as an Emergency or Pre-Booked appointment, Budget Locksmiths Leicester are always ready to come out and secure your property or building. Having many times been called on by retailers in the City Centre of Leicester for this window boarding service, we already have a great reputation for doing a professional job with no hassle where our friendly engineers work quickly, cleanly and efficiently. Payments are accepted in cash, by card or over the phone whichever is more convenient for you. We do not charge Call Out Fees and there are No Hidden Charges added on. As a professional Locksmith company you can rely on, your security is our prime concern and our Best Value Policy keeps our rates affordable and competitive plus being fully insured with a 100% guaranteed quality workmanship, we are the team for the job if Boarding Up is what you need.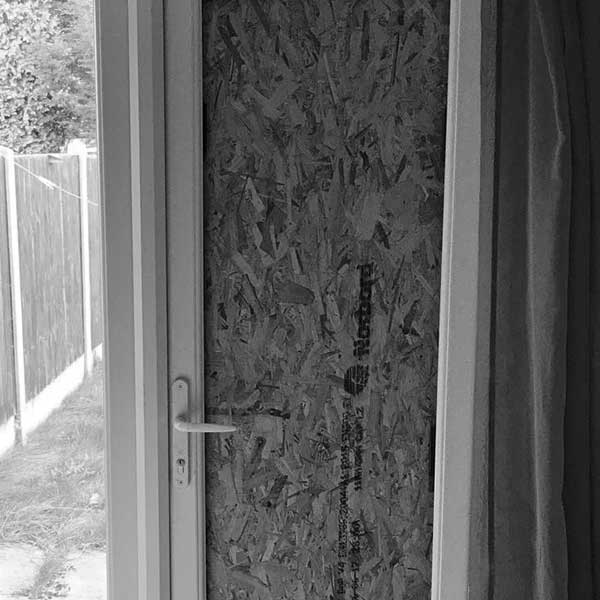 Emergency Window
Boarding Up Leicester
It is very likely that you will need Emergency Boarding Up in Leicester because of an accident or criminal damage to windows and doors. Our professional engineers are able to board up anything from a small window to doors right up to a large glass shopfront using a high quality strong boarding material that offers good secure temporary protection. Always here when you need us, your call will get straight through to a member of our team who will activate a rapid response and immediately dispatch help out to you aiming to arrive within just 20 minutes, so if a fast emergency boarding service is what you need, call us first for immediate protection to make your property safe and secure and restore your peace of mind.
How will your property
be boarded up in Leicester?
Using a high quality strong boarding material our engineers employ the best practice method of boarding up which deters any unauthorized access and gives a solid and secure temporary protection without creating any further damage to the framework. Once all the boarding is in place we can plan to measure up and arrange our 24 hour Leicester Glass Replacement Service or discuss the repairs required to any doors or windows. Whilst on site you can always ask us to assist with any further security concerns you may have and finally we carry out a thorough clean up removing all of the glass from the frame and the floor which is all part of the service.
Boarding Up Properties
Leicester Service
Emergency 24 Hour Property Boarding Up
Clean Up Procedure; We Remove Broken Glass
Supply And Install High Quality Boarding Materials
Assess Over Security
Why is Window
boarding required?
There are many reasons why you might need to call us for our Leicester Boarding Up Service, Break-Ins, Vandalism, Fire, Accidental or Storm Damage are some of the main reasons although in our experience it is more often commercial properties, retail premises, pubs, bars and nightclubs that bear the brunt of criminal damage. In all cases, if required, we will work with you to compile evidence for insurance companies by taking before and after photographs and assist local authorities by providing evidence. We will also be on hand to support with any other issues such as lock repairs or lock changes as well as repairing any additional damage that was made to the frames of the Boarded Up Window and Doors. A Risk Assessment carried out at the scene will highlight any further vulnerabilities that could become a security issue and can be dealt with.
Replace Glass After Boarding
Yes we can certainly measure up, arrange delivery of and install the replacement glass which is typically a 24 hour service. We have a comprehensive range of glass available for replacement: Double Glazed Units, Toughened Glass, Energy Saving K Glass, Self Cleaning Glass, Patterned Glass, Georgian Bar Glass and Glass with Lead Work. We can replace like for like or given the circumstances you may want to consider an upgrade to a Glass that has more resistance. We are happy to discuss all options available and provide workable solutions.
Leicester Boarding Up by Request
You can call us anytime to request that you need an area boarded up in Leicester. Maybe you just need some privacy or the need for some temporary boarding to be put in place. Maybe you have a property that is going to be unoccupied for a longer period of time and want to avoid broken windows and vandalism or to protect a property undergoing construction. It is advisable that any vacant commercial property in Leicester is not left unprotected leaving it vulnerable to opportunist squatters, vandals or arsonists. Give us a call or email for some friendly advice if you require any further information regarding Boarding Up and we will be happy to oblige.