If you are one of many high street retailers, small stores, property developers, landlords, agents or property maintenance companies in Leicester you will find yourself requiring lock changes, window boarding, glass replacement or lock out assistance quite frequently, this can be the result of your tenants moving in and out regularly, sales of new properties, or employees losing keys, the best solution to this is for your company to have a contract in place with a commercial locksmith in Leicester to cut down your overall costs for locks, parts and labour. With our locksmith services to the trade, we can guarantee best value for money at all times of the day and night without sacrificing the quality of parts used or workmanship.
We are frequently review our company throughout to maintain and improve on the quality of our commercial locksmith services and the prices we are able to provide local leicester commercial businesses.
Budget Locksmiths Leicester are one of very few commercial locksmiths in Leicester that provide assistance throughout the night, and we are happy to be one of these that serve customers at any time day or night, our Commercial locksmiths are fully committed to take on all commercial contracts for all aspects of locksmithing, window boarding, glass replacement, door and window replars. Call our team today on 0116 442 2373 for the best rates available.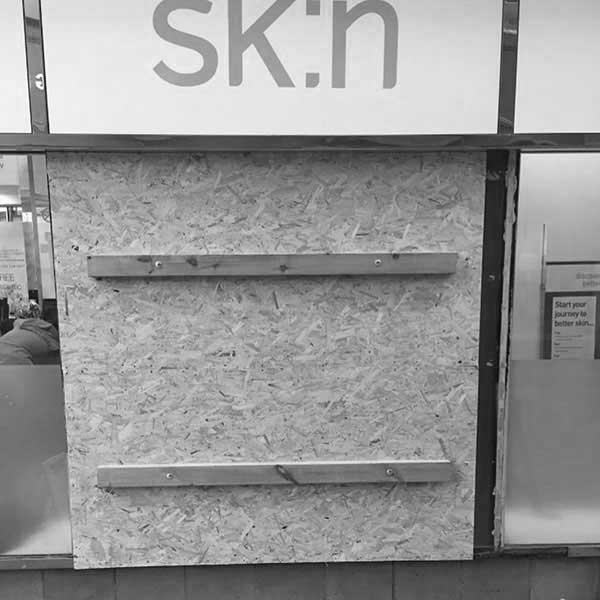 Business Locked Out
Our Commercial locksmith Leicester team will attend locked out business owners and serve businesses in Leicester of all types and sizes, no matter the time of day or night, we are available 24 hours a day for all emergency calls received, whether that is to get you back into your business premises utilising non destructive methods by picking the lock or to help with an unfortunate break-in and vandalism.
We have attended many lock outs inside of the well known shopping centre in Leicester the Highcross Shopping Centre, for companies such as Lacoste, Next and Starbucks, this is usually the case where an employee has lost their key or there has been a malfunction with door mechanism itself, no matter the type of issue you're experiencing with your doors or windows, we are confident our budget locksmith team will resolve them for you.
Commercial Burglary Victims
Leicester
If you have been unfortunate to experience a break-in at your business premises then you'll wanting to seek a reliable Commercial locksmith, with our locksmith team operating a 24 hour service we will endeavour to fulfil your requirements and provide a quote of satisfaction.
Our commercial Leicester locksmith team don't just work solely with locks, we are able to offer many different type of contract services for local businesses in Leicester, one of which is window boarding, these type of services are mostly required by businesses such as pubs, bars and shops, usually in the case of windows being smashed mainly by vandals after a night of binge drinking, this of course is of a great inconvenience and can be very much a distressing time for shop owners however with our Commercial locksmiths on standby 24 hours a day, we are able to attend to board the windows up for you to temporarily secure the premises, and provide a same or next day glass replacement and even work with you to fully assess the building and windows with you to add preventions which can be the type of glass used and additional protection and improve on the overall security for the future.
Commercial Locksmith
Leicester Service
You will be pleased that our locksmith engineers are trained in all aspects of the trade, this includes all doors and windows, boarding up using the best materials and techniques, glass replacement offering a wide range of glass types for your doors and windows internal and external. We are happy to advise you on the best solutions available for your specific requirements and help resolve any issues you may be having at your property.
All Doors and Windows repaired
Window Boarding
Door Opening (We open any door, non-destructive)
All type of Locks supplied, fitted and replaced
Mechanical Code Locks
Keyless Locks
Keyless Combination Wheel Cylinder Locks
Locks keyed alike
Security Door Grilles supplied and fitted
Push Bars supplied and fitted
Push Pads supplied and fitted
Door Closers supplied and fitted
Fire Safety Door Mechanisms
Registered Key Systems
Master Key Systems
Door Entry Systems
Roller shutter door locks repaired
Security audit and risk assessment
Our commercial locksmiths in Leicester cater for all requirements.
Commercial Security Audits
Leicester
We provide security audits for businesses of all types and sizes in Leicester, we will be able to advise on security ranging from the type of locks used, checking of doors and entrance points including associated functioning parts such as hinges for possible vulnerabilities which may have been overlooked in the past. These checks can be performed on all doors internal and external, along with all windows of the property. We have various checks which we will carry out to outline any concerns we may have found related to your current locks and security items.
You may already have some concerns which you require advice on, we welcome you to call our Leicester locksmith team on 0116 442 2373.
If you have multiple business premises, this is not a problem, we will attend all locations that you require security audits on and provide you with a fully complete review and write up of our findings.
No matter the type of service you require, be it a single or multiple lock change, we'll be able to accommodate and fulfil your requirement, call us today on 0116 442 2373 to discuss all Commercial locksmith requirements.