As well as being practical, Glass is an amazing design feature and with more glass around these days, our Quality Glass Replacement in Leicester is available 24 hours a day 7 days a week covering all areas of the county. You can be sure of a professional job from our Glass Replacement engineers that take pride in doing a great job for an affordable price that is maintained by our Best Value Policy and keeps us competitive within the market. Budget Locksmith Leicester are fully insured with 100% guaranteed workmanship that includes cleaning up and removing the original glass is what you would expect from a well established business and makes us an obvious choice for your Glass Replacement requirements. All Residential and Commercial properties are included with no restriction on size that includes Pubs, Hotels, Restaurants, Schools and Offices because we are able to replace a single pane or door glass replacement up to a glass shopfront. All the Glass we fit conforms to British Energy and Safety Standards plus all Health and Safety Regulations are adhered to during fitting. Payment is accepted in cash or by card in person or over the phone. For a same day appointment or to book in a convenient date and receive a FREE No Obligation Quote with No Call Out Fees or any Hidden Extras added on, all you need to to is give us a call, send an email or request a call back and a Glass Replacement expert will get back to you.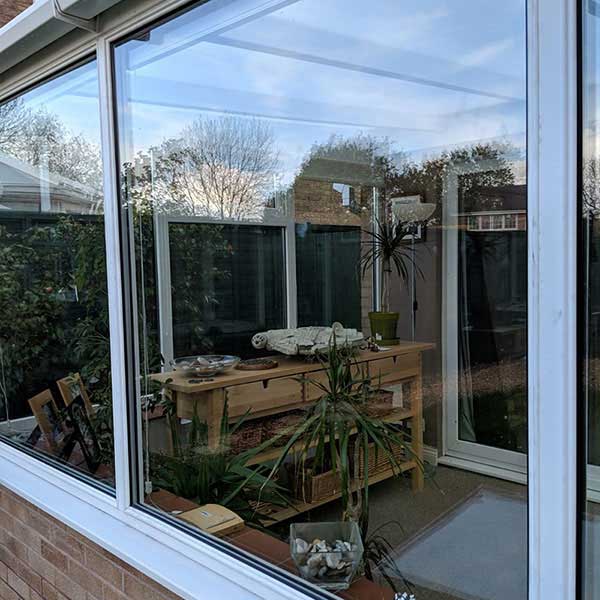 Emergency Glass
Replacement Leicester
Should you have an accident or become a victim of criminal damage where windows or doors have been smashed we have an emergency service working night and day that will respond immediately to your call. By giving us the details of the incident we will in the first instance be able to install temporary Window, Door or Shopfront Boarding. Fitted from the inside and using non destructive methods of working, we will ensure that security is restored whilst the correct Glass Replacement can be ordered and fitted within 24 hours. Reliable with a fast response time our local engineers will aim to be with you within 15 minutes ready to get to work quickly, efficiently and with no hassle.
Types of Window Glass Available?
Many types of Window Glass is available, we advise on the best for your style of windows and make our Leicester Glass Replacement service available to both Residential and Commercial customers. Amongst other benefits a significant part of maintaining energy efficiency in the home is the Glass. It is important to us that in order to provide the exact Glass you need we safeguard a comprehensive range of options to offer you. Double Glazing Replacement for uPVC Windows, Toughened Glass for those critical Safety areas in the home or workplace, K Glass mostly used in Double Glazing, really displays its benefits during the winter months as it effectively preserves heat by not allowing any means of escape which is great for lower winter energy bills. Self Cleaning Glass suitable for Skylights, Conservatory Roofs and in Commercial settings has a lifelong covering that cannot wear away and uses the forces of nature to break down and wash away organic dirt which means bird droppings are naturally and effectively dealt with. We have a stylish selection of Decorative, Frosted and Patterned Glass available for doors and windows and the popular traditional Georgian design of Georgian Bar Glass. If there is a type of glass that you are interested in but need more details or a type of glass not mentioned here, give us a call, we will be happy to give as much information as you need or look into sourcing a particular type of glass for you.
All Customers Providing A Local
Window Glass Replacement in Leicester
Our local Glass Replacement Service in Leicester is available 24 hours a day and this includes all Residential, Commercial and Retail Buildings, Offices, Schools, Pubs, Hotels and Restaurants thus we cover an extensive range of Glazing, from windows to doors, part of Shopfronts, Patio Doors and Conservatories to name a few. We are able to support all your Glass Replacement requirements and because we only replace the glass pane and not the frame itself, (unless required to so), if you need the flexibility of replacing one pane at a time, we can do that too. Please remember if you have been told that Glass Replacement is not possible and you need a new Door or Window don't get conned, call us first before you decide because the cost of replacing glass is a fraction of the cost of replacing a whole door or window unit and our engineers can visit and assess the situation for you.
Do I Need Safety Glass in my Door?
This is an important consideration with Glass Replacement in Leicester considering there are stringent Safety Regulations in place for both Windows, Doors and other Glazed Areas. Critical areas include all Glazed doors whether fully or partially glazed and any Windows or Glazed Areas within 300mm of the door and up to a height of 1500mm. Any Glazed areas from floor level, up to a height of 800mm above floor level must be fitted with safety glass, even if only a part of the Glazing falls within the critical area, the whole pane needs to adhere to British Standards and be fitted with safety glass. 4mm Toughened Glass has a safety marker inscribed into it which should still be visible after installation. It is commonly used in residential properties and is made 4 times stronger than non treated glass (Annealed Glass) through a process involving a quick succession of heating and cooling and the result of shock or impact is that it shatters producing small particles that are less likely to cause injury. Annealed Glass is processed by a slower more controlled method, however breaks into shards that are more likely to cause injury. It is our job to advise you on all requirements and options available when discussing Glass Replacement so don't worry if you don't know. Working to all Safety Regulations our friendly and professional engineers are on call to help.
Change of Glass in my Windows or Doors?
Absolutely. You can opt to make a change to your home by deciding on Glass Replacement. Maybe you would like to put Self Cleaning Glass that magically cleans away any organic dirt and is suitable for external and inaccessible areas such as on the roof of your conservatory. Change some plain glass for patterned, decorative or frosted glass that will still let in the light but also give some privacy, ideal for bathrooms or cloakrooms. Create a Georgian Style picture window from Georgian Bar Glass made up of vertical and horizontal lines. However if you are looking to upgrade, installing Double Glazing can reduce outside noise and lower heating bills by improving the energy efficiency of your home. Glazing can create an amazing difference in turning a house into your home and we have a friendly and knowledgeable team to discuss your ideas and answer all your questions. Give us a call and let us turn your ideas into a reality..